Tuesday, 29 March 2016 03:12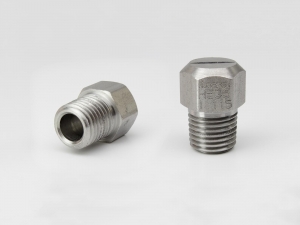 The H-535 is a single nozzle, one piece. The unique "V" of the oval hole milling and produce a very thinsheet of high cutting speed was found to be ideal for the car wash, commercial dish washers and other applications where speed is important aerosol.
Tuesday, 29 March 2016 03:12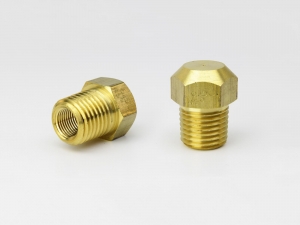 The H-261 direct pressure operated Nozzle produces a very fine hollow cone spray similar to the F-80 Nozzle. However, it has a 1/4″ male NPT thread, so no adaptor is needed, and it can be connected directly to a 1/4″ Tee. Material: All Brass, with 120 mesh Monel Strainer. Primary use is at snow cannons or spray racks.
The H-261-CJ is the same general construction as the H-261 Nozzle. This version includes a "Center Jet" through the middle of the swirler which produces a Solid Cone Spray and somewhat coarser atomization. It has proven extremely successful in commercial dish washers.