Tuesday, 29 March 2016 03:12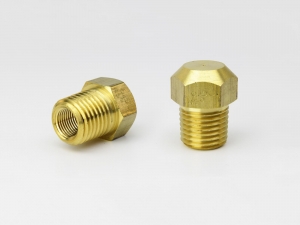 The H-261 direct pressure operated Nozzle produces a very fine hollow cone spray similar to the F-80 Nozzle. However, it has a 1/4″ male NPT thread, so no adaptor is needed, and it can be connected directly to a 1/4″ Tee. Material: All Brass, with 120 mesh Monel Strainer. Primary use is at snow cannons or spray racks.
The H-261-CJ is the same general construction as the H-261 Nozzle. This version includes a "Center Jet" through the middle of the swirler which produces a Solid Cone Spray and somewhat coarser atomization. It has proven extremely successful in commercial dish washers.