Displaying items by tag: Metal Cleaning - MONARCH NOZZLES | Oilburner-, Industrial- and Agricultural Nozzles
Tuesday, 18 October 2016 20:48
The H-837 Nozzles produce a solid unbroken stream with a defined jet length before breakup of the liquid occurs. Useful for cleaning and cutting operations. To maximize stream length, mounting close to tees should be avoided as the turbulence produced from "turning the corner" disrupts smooth stream.
Tuesday, 29 March 2016 03:12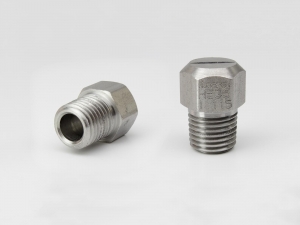 The H-535 is a single nozzle, one piece. The unique "V" of the oval hole milling and produce a very thinsheet of high cutting speed was found to be ideal for the car wash, commercial dish washers and other applications where speed is important aerosol.